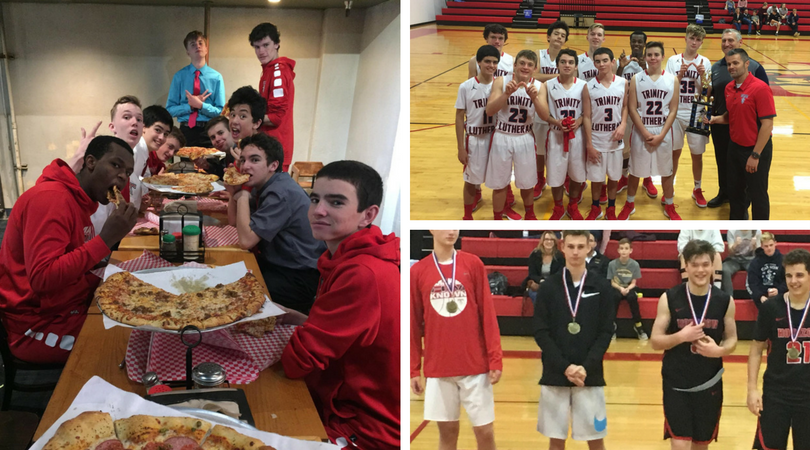 Congratulations to the Trinity High School Boys Basketball team and their Horizon Christian Tournament championship.
The boys beat Triad in the 1st game 39-38 (1st win against Triad in boys school history) and then Horizon Christian 55-42 in the championship game. Matthew Eidler was also awarded 1st team all-tournament. Well done boys! 
Looking for end-of-year donation opportunities or ways to help Trinity sports programs? Please consider being part of the Trinity Booster Club. All donations made go directly to providing all uniforms, league fees, officiating costs, team fees, and all opportunities associated with sports. See attachments for more information, or contact me at kyle.gilbert@saints.org. 
Here is what the week looks like for sports here at Trinity:
Middle School Girls Basketball:

Dec. 10:Game: Trinity vs Redmond 1:40 pm at Summit
              Game: Trinity vs Madras 2:50 pm at Summit
Middle School Boys Basketball (7th-8th):

Dec. 9: Game: Trinity vs Crook County 12:30 pm at Pacific Crest
Game: Trinity vs Mt. View 8th (A) 4:00 pm at Pacific Crest 
Middle School Boys Basketball (5th-6th):

Dec. 9: Game: Trinity vs Summit 10:10 am at Crook County
            Game: Trinity vs Crook County 1:40 pm at Crook County
High School Boys Basketball:
Dec. 7: Game vs Dunsmuir 4:00pm (Redding Christian Tournament-Redding, CA)
Dec. 8: TBD (Redding Christian Tournament-Redding, CA)
Dec. 9: TBD (Redding Christian Tournament-Redding, CA)
Games times are subject to change. All changes can be found at:
Middle School Sports: http://trinityathleticsbend.weebly.com/
High School Boys Basketball: http://www.osaa.org/teams/21430