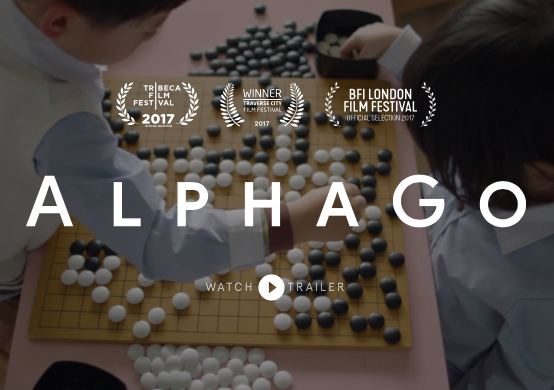 Show Time: Thursday –  6 pm
Location: Tykeson Hall OSU Cascades
Ticket Price: Free
 As an early adopter of the hour of code, Trinity has had many rewards including students video conferencing with the VP of Google – now the CEO of YouTube. This year, Mr. Stuve was contacted and informed that Trinity was chosen to receive a free public viewing of ALphaGo.
AlphaGo chronicles a journey from the halls of Oxford, through the backstreets of Bordeaux, past the coding terminals of Google DeepMind in London, and ultimately, to the seven-day tournament in Seoul. As the drama unfolds, more questions emerge: What can artificial intelligence reveal about a 3000-year-old game? What can it teach us about humanity?
From the Director
The complexity of the game of Go, combined with the technical depth of an emerging technology like artificial intelligence seemed like it might create an insurmountable barrier for a film like this. The fact that I was so innocently unaware of Go and AlphaGo actually proved to be beneficial. It allowed me to approach the action and interviews with pure curiosity, the kind that helps make any subject matter emotionally accessible.
Unlike the film's human characters – who turn their curious quest for knowledge into an epic spectacle with great existential implications, who dare to risk their reputation and pride to contest that curiosity – AI might not yet possess the ability to empathize. But it can teach us profound things about our humanness – the way we play board games, the way we think and feel and grow. It's a deep, vast premise, but my hope is, by sharing it, we can discover something within ourselves we never saw before.
— Greg Kohs, Director
More info the film AlphaGo here